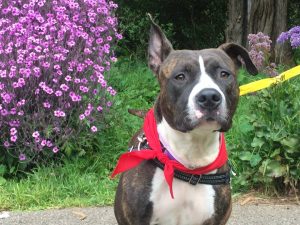 WHAT
Adopt any bull-terrier mix dog from ACC and your adoption will include a Welcome Home gift package with toys, treats & more!  Bull-terrier mix dogs have historically been known as "America's Dog" and as valued and vital members of our society: as cherished family members, search and rescue dogs, therapy dogs, and armed forces and law enforcement partners. Come meet all the fabulous friendly pitties at ACC! Check out more photos and videos of some of them on the ACC Facebook page.  These benefits are included with every dog adoption at ACC:
1-year license
Spay/neuter surgery
Microchip
Vaccinations
Complimentary wellness exam at vet
Pet Food Express one-time discount coupon
WHEN
Receive a gift package with a bull-terrier mix dog adoption. Adoptions daily from 12:00 noon to 5:30 pm (6:30 pm on Wednesdays).
WHERE
San Francisco Animal Care & Control
1200 15th St.
San Francisco, CA 94103
map
America's Dog: Adoption Special